New Pallet Rack Accessories are available for our 48 hours quick ship program:
8 Shipping locations (CA, IL, MA, NC, SC, RI, TX, VA)
Post Protectors: 12″H
Row Spacers: 6″, 8″, 12″ and 18″
Cross Bars (pallet supports): 36″, 42″ and 48″
Wall Spacers: 6″, 8″ and 12″
Other Accessories available for standard lead times estimated at 5-7 business days.
Custom sizes can be fabricated.  Lead time will vary based upon production schedule.
Give us a call at 1-800-711-RACK (7225) or email us at [email protected]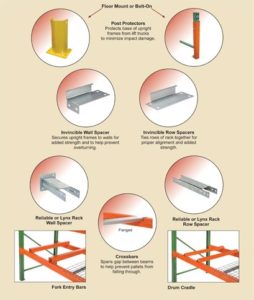 Looking for used? Please see our used pallet rack website.                                    www.usedpalletrackusa.com